In considering the impact that COVID-19 has had on CGS and our ability to meet in person, we want to inform you of some changes we are planning for the 2021 board election procedures.
Changes to Voter Eligibility
Ordinarily an eligible voting member must have attended a minimum of three (3) regular business meetings as a member in good standing in the fiscal year beginning April 1st.  Due to COVID, all our meetings since April have been conducted on Zoom, and any current members who will have attended at least 3 of these Zoom meetings in the current fiscal year will be eligible to vote.  
We understand that Zoom has not been accessible to all members.  So as an alternative this year, we will additionally consider members as eligible to vote if they were eligible to vote in last year's board election, provided their membership has remained in good standing.  It's not necessary that you voted last year.   If you were eligible to vote in last year's election, you will continue to be an eligible voter for the 2021 election.
Nomination Process
Nominations for board positions are taken at the regular monthly business meeting in February of each year.  For the February 2021 meeting, we plan to conduct the nomination process as usual.  We strongly encourage all eligible members to attend if possible.  If the February meeting is conducted on Zoom, and for those who cannot attend, we will be adding an opportunity to submit nominations via email for eligible members in advance of the February meeting.  In January, we will be notifying eligible members regarding the procedures for submitting nominations via email.
Obviously it's been unfortunate that COVID-19 has had such a severe impact on our usual ability to meet together.  We certainly don't want these circumstances to cause any members to feel disenfranchised.  The above changes to the election process are intended in consideration of members unable to use Zoom.  If you have any questions or concerns about these changes, or if you believe you are disadvantaged in any way by these revisions to our usual process, please contact the board directly by replying to this email announcement.  We will consider individual accommodations if the situation warrants it.
Thank you all.  We look forward to meeting together again when it's safe to do so!
Chicago Gender Society (CGS) Meeting:

December 8, 2020 Via Zoom ~ Cassandra Storm and Lindsey Taub will be joining us again.   Also we'll be wearing our favorite holiday outfit. And don't forget to support your local Toys For Tots!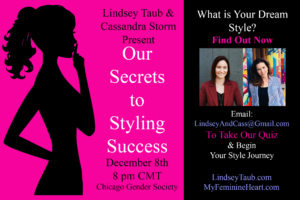 January 12, 2021 ~ Virtual Wine Tasting!

——–MEETING LOCATION———
 Currently meetings are held via Zoom! Our meetings are held at The Curragh Irish Pub, 6705 N. Northwest Hwy, Chicago, IL 60631
Doors open at 7pm. Meeting starts at 8pm.
Newcomers are encouraged and welcomed. Just ask for Karen.
Chicago Gender Society's (CGS) Social Corner:
Currently our socials are held via Zoom: Our  monthly social is held at Peggy Kinnane's on the 4th Tuesday of each month. From 7pm-whenever. Peggy Kinnane's is located at 8 N. Vail Ave. in Arlington Heights.  Members and non-members are welcome to attend. Peggy Kinnane's offers us a friendly environment to gather and visit.
Intro to Chicago Gender Society (CGS):
Thank you for visiting our site. We hope that you will find the information you are searching for!
The Chicago Gender Society (CGS) was founded 34 years ago for transgender education and support. CGS continues to provide a safe place for people to explore their gender identity.  We do this through our monthly meetings, socials and events. If you are new to the community, CGS meetings provide our members and guests an opportunity to network with other individuals exploring similar feelings and provide educational programs from experts in the fields of interest to our members.  Our monthly socials provide an evening out with members and friends in a public environment.  Our events range from a golf outing, an evening of bowling, to a grand Holiday Party.