Intro to Chicago Gender Society (CGS):
Thank you for visiting our site. We hope that you will find the information you are searching for!
The Chicago Gender Society (CGS) was founded 34 years ago for transgender education and support. CGS continues to provide a safe place for people to explore their gender identity.  We do this through our monthly meetings, socials and events. If you are new to the community, CGS meetings provide our members and guests an opportunity to network with other individuals exploring similar feelings and provide educational programs from experts in the fields of interest to our members.  Our monthly socials provide an evening out with members and friends in a public environment.  Our events range from a golf outing, an evening of bowling, to a grand Holiday Party.
Chicago Gender Society (CGS) Meeting:
CGS Monthly Meeting: Tuesday, April 13 at 8:00 CST over Zoom
Samantha Ambrose, will be joining us. Samantha is the Workshop Director on the Advisory Board of TCNE (Trans Club of New England). She'll be talking about the current and post-COVID plans they have for both TCNE and the return (hopefully) of the First Event conference in January 2022.
Also joining us, is Marina Katrell, founder of Create Natural Balance . Marina is a certified health coach and nutrition expert who helps clients, many of whom are transgender women, on natural approaches to hormonal balance for optimal health, as an alternative to synthetic HRT.
CGS Monthly Meeting: Tuesday, May 11 at 8:00 CST over Zoom
Anna Lantry, TruVoice Lessons,
will be joining us. MTF voice training, often referred to as voice feminization therapy, is voice coaching for those wishing to develop a more feminine voice. We work with predominantly transgender clients (and some cis clients too), be they trans women wishing to develop a purely female voice, trans people of other identities wanting a more feminine voice than they currently have, and even voice over artists that wish to play both male and female characters! Whatever the reason for your goals, our goal is to help you achieve effective voice feminization. 
https://www.truvoicelessons.com/
Members in good standing and first-time attendees are always invited to join our meetings on the second Tuesday of each month at no additional cost. For non-members returning to a meeting, there is a fee of $7.00, plus a $1.00 service transaction fee, which can be prepaid using the PayPal Button.   Everyone is invited to join our socials on the fourth Tuesday of each month.
——–MEETING LOCATION———
Currently meetings are held via Zoom! Our meetings are held at The Curragh Irish Pub, 6705 N. Northwest Hwy, Chicago, IL 60631
Doors open at 7pm. Meeting starts at 8pm.
Newcomers are encouraged and welcomed. Just ask for Karen.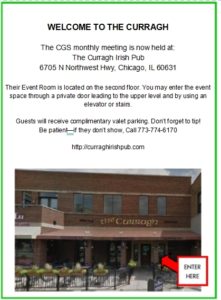 Chicago Gender Society's (CGS) Social Corner:
Currently our socials are held via Zoom: Our  monthly social is held at Peggy Kinnane's on the 4th Tuesday of each month. From 7pm-whenever. Peggy Kinnane's is located at 8 N. Vail Ave. in Arlington Heights.  Members and non-members are welcome to attend. Peggy Kinnane's offers us a friendly environment to gather and visit.