Intro to Chicago Gender Society (CGS):
Thank you for visiting our site. We hope that you will find the information you are searching for!
The Chicago Gender Society (CGS) was founded 34 years ago for transgender education and support. CGS continues to provide a safe place for people to explore their gender identity.  We do this through our monthly meetings, socials and events. If you are new to the community, CGS meetings provide our members and guests an opportunity to network with other individuals exploring similar feelings and provide educational programs from experts in the fields of interest to our members.  Our monthly socials provide an evening out with members and friends in a public environment.  Our events range from a golf outing, an evening of bowling, to a grand Holiday Party.
Chicago Gender Society (CGS) Meeting:
CGS Monthly Meeting: Tuesday, March 9 at 8:00 CST over Zoom
Gabrielle Claiborne.
Like a beautiful diamond, your truth is multi-faceted, with dazzling aspects of authenticity always waiting to shine forth. Embracing each facet of your ever-unfolding truth can be scary and challenging. But the joys of doing so far outweigh the heartache of living a safe, but inauthentic life. Author Gabrielle Claiborne knows.
From the outside, it looked like she had it all: beautiful family, high-power career, church and community respect. But inside, she was living a life of turmoil. Overcoming four decades of fear and shame, Gabrielle risked everything and leaped into the unknown to embrace a key aspect of her truth, that she is a transgender woman.
In this inspiring "memoir meets self-help" book this successful business owner, TEDx speaker and nationally recognized LGBTQ leader shares her riveting story of losing one life and discovering another. As she recounts her joys and struggles, with humor and vulnerability, Gabrielle graciously weaves insights about living authentically with invitations for readers to embrace new facets of their own unique truths–whatever those look like for them.
Her book can be found on Amazon in print and Kindle format. If you prefer an autographed copy, feel free to email Gabrielle at Gabrielle@TransformationJourneysWW.com
CGS Monthly Meeting: Tuesday, April 13 at 8:00 CST over Zoom
Marina Katrell.
Marina is a certified health coach and nutrition expert who helps clients, many of whom are transgender women, on natural approaches to hormonal balance for optimal health, as an alternative to synthetic HRT.  
——–MEETING LOCATION———
Currently meetings are held via Zoom! Our meetings are held at The Curragh Irish Pub, 6705 N. Northwest Hwy, Chicago, IL 60631
Doors open at 7pm. Meeting starts at 8pm.
Newcomers are encouraged and welcomed. Just ask for Karen.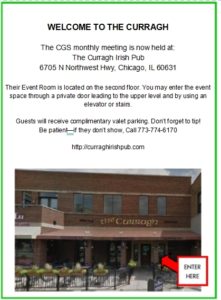 Chicago Gender Society's (CGS) Social Corner:
Currently our socials are held via Zoom: Our  monthly social is held at Peggy Kinnane's on the 4th Tuesday of each month. From 7pm-whenever. Peggy Kinnane's is located at 8 N. Vail Ave. in Arlington Heights.  Members and non-members are welcome to attend. Peggy Kinnane's offers us a friendly environment to gather and visit.