As of course you are all aware, COVID-19 has had a major impact on CGS's social activities, and for the time being we have replaced our meetings and socials with online Zoom sessions.  The current phase of reopening in Illinois and the Chicago area does not permit gatherings of our size at our usual venues, and the board unanimously believes it's not safe for us to be meeting in person right now.  We understand how important it is to many of our members to have these social activities, and Zoom can't entirely take the place of that.  So we have been working to pursue approaches to add value for our members during this time of restrictions.  To that end, we've set up virtual "trans conference"-type presentations at our recent and upcoming monthly members meetings.  These presenters — Stephanie Carey (makeup & skin care), Cassandra Storm (photographer, feminine comportment coaching), Lindsey Taub (image consulting), Savannah Hauk (dual-gender author) and Mara Keisling of the National Center for Transgender Equality — are examples providing offerings that can cover the range of coaching, education, self-help, and inspiring stories of the transgender experience which we feel are conducive to the Zoom platform, and can make our meetings effective, valuable, and entertaining during this time.
We don't want to stop there — we welcome your input as CGS members of what you would like to see us doing while we're operating under the current restrictions.  We want to make the organization what you want it to be, to add value any way that's reasonably possible under the circumstances.  So if you have thoughts or suggestions regarding what would most interest you, please answer the below questions and reply back to us via email:
What kinds of activities or presentations would you like to see at our monthly meetings?

For the monthly socials, do you prefer a free-form interaction or more structured group activities (i.e., games, questions posed to the group, etc)?

Do you have any suggestions of the kinds of content you would most like to see in The Primrose?

Please provide any other recommendations you may have for adding value to CGS during this time
Chicago Gender Society (CGS) Meeting:

October 13, 2020 Via Zoom ~ Our annual "Fall into Fashion Show" done virtually. Limit two outfits please.
November 10, 2020  Via Zoom ~ Mara Keisling, founding executive director of the National Center for Transgender Equality will be joining us.
December 8, 2020 Via Zoom ~ Cassandra Storm and Lindsey Taub will be joining us again.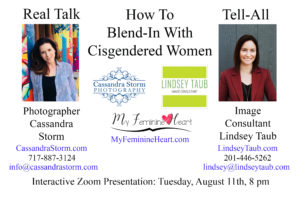 January 12, 2021 ~ An evening of story telling.  Share a 5-10 minute story of an event in your life.
——–MEETING LOCATION———
Our meetings are held at The Curragh Irish Pub, 6705 N. Northwest Hwy, Chicago, IL 60631
Doors open at 7pm. Meeting starts at 8pm.
Newcomers are encouraged and welcomed. Just ask for Karen.
Chicago Gender Society's (CGS) Social Corner:
Our  monthly social is held at Peggy Kinnane's on the 4th Tuesday of each month. From 7pm-whenever. Peggy Kinnane's is located at 8 N. Vail Ave. in Arlington Heights.  Members and non-members are welcome to attend. Peggy Kinnane's offers us a friendly environment to gather and visit.
Intro to Chicago Gender Society (CGS):
Thank you for visiting our site. We hope that you will find the information you are searching for!
The Chicago Gender Society (CGS) was founded 34 years ago for transgender education and support. CGS continues to provide a safe place for people to explore their gender identity.  We do this through our monthly meetings, socials and events. If you are new to the community, CGS meetings provide our members and guests an opportunity to network with other individuals exploring similar feelings and provide educational programs from experts in the fields of interest to our members.  Our monthly socials provide an evening out with members and friends in a public environment.  Our events range from a golf outing, an evening of bowling, to a grand Holiday Party.