President – Audry Farber – 1st Term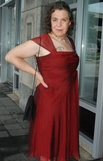 Audry has been a member of CGS since 1995. She has also been on the board for six years prior as the Vice President and Treasurer. She is proud of the accomplishments of the board over the past year and is excited at the possibility taking on the challenges of President. She I looks forward to working with the new board. There are some new people, who will bring with them a fresh perspective.
Email Audry at: audry_claire_f@hotmail.com
Vice-President – Juanita Sarinana – 3rd Term

I wanted to take the time to thank you for nominating me for Vice President. I know with this new title comes new responsibilities. I find myself taking another step further in the group and accepting the challenges that comes with the title. I've had the pleasure being your Representative At Large for the past 2 years and felt that I did my best in recognizing everyone that walked through the door. I enjoyed my previous position as it has made me feel closer to each member that attended. I love attending the meetings and I hope to bring more exciting activities as a group to get our name out into the community. I know with everyone's support this can and will happen. Thank you again for having the trust in me to be your next Vice President.
Email Juanita at: mznita2@yahoo.com
Treasurer – Wendy Bruce – 2nd Term

It has been my privilege to serve as your treasurer this past year and, if elected to another term, I'll continue to help keep CGS moving forward. My goal is to keep our organization financially strong and also to bring some new ideas to the table.
Secretary – Ashley Marie Chmura – 1st Term

Hi I am Ashley and I running for the position of   Secretary. I have been a member of CGS since 2017. I feel that I can provide CGS with a friendly and helpful attitude. As Such I feel that I am capable of handing all different type of situations that may present themselves. I also enjoy helping people and I look forward to serving on the CGS for a term.        
Representative at Large – Karen Lynn – 5th Term                                    
Karen has been a member of CGS since May 2002. She has fully supported her transgender spouse and been very involved in the community for many years. She looks forward to serving as Representative at Large, after serving as Secretary last year and Treasurer and VP for the prior two years. She is grateful for the confidence that the voting members have shown in her.  Karen is also the Publisher and Editor of the Primrose Newsletter.
Email Karen at: chigendersoc@aol.com